Dear Reader,
Someone special reminded me to write. Let's rain some truth on this betch ❤
GHOSTS OF ROOMMATES PAST
Ever get that skin-crawly, goose-bumpey feeling like you're not alone? Like in the movies when the white girl comes home all like, "Hello? Is anyone there?"
Yeah that happened to me last week. After returning home from a glorious day of being covered in sushi(scroll down), I asked Alexa to pay ocean sounds. When music box wifey didn't answer, I noticed someone had taken her AND rifled through my stuff.
Instinctively, I took out my baseball bat(obvi) and knocked on my roommate's door. 3 weeks earlier, she'd left all her stuff, took her cat, and skipped out on rent. Just when you thought ghosting only applied to dating.
Back to the baseball bat. I whipped open her door to find the room empty except for the bed…and the two people sleeping in it. Voila ex roomie + her mom. After hugging it out, we proceeded to negotiate a fair and amicable agreement…jk jk. Think less Amal Clooney, more Meg Ryan in "You've Got Mail." I stuttered something about "lack of communication" and "being a decent human being." Ex-roomie barely responded. Her mom said, "We didn't ask you to cover our portion. You're not being nice right now." Exsqueeeeze me while my brain falls out of my vadge. Oh hellz nah. I asked them to leave and didn't put the bat down till they left.
Lesson? When life screws you up the a$$(and not in a pleasurable way), all you can do is wait out the storm and ASK for help. Incredible souls will answer. Gratitude for every kindness received. Cheers to all the lovely uber drivers who listened to me vent. 5 stars.
For anyone who's used to the "what you see is what you get"(East Coasters), LA can prove challenging. You've got to dig deep to find the unicorns. Check IDs and intentions from the get-go. Welcome to the city of angels.
P.S. Live alone if you can afford it. Peace of mind is worth every penny.
WHAT NO ONE TELLS YOU ABOUT ACTING(the Asian 1%)
You know those feelings most of us keep locked away in the "Inner-Demon-Child-Highly-Flammable" box? Well acting requires you to release them. I've played a mom who's lost her daughter, a war widow, and a schizophrenic homeless woman. No wonder performers feel like jumping out of buildings. (This isn't a joke about suicide, but rather an observation about how intense acting feels.) We're taught to separate ourselves from the "character". Tis a very thin line. While emotional exhaustion isn't exactly the topic du jour at awards shows, I have immense respect for anyone who survives(and thrives) in the arts.
Highlight? Thanks to Stella Adler, I booked as a naked sushi girl, or Nyotaimori, for a sci fi flick called The Fusion. Four elite members of society dine off my body while peddling the elixir of youth. Before shooting, we were given an anti-Harvey Weinstein pep talk. (SO NECESSARY.) Reassured my coochie would be tastefully hidden by banana leaves, it took some major deep breaths to unsheath. I'm all about close ups but hey now!
As three women dressed yours truly in flowers and raw fish, I imagined myself as Khaleesi, mother of dragons, breaker of maki rolls, all while chatting up cast and crew so we'd feel more comfortable.
Did I mention Eric Roberts(Julia Robert's brother) was sitting next to me? He tried to tickle me with chopsticks. He also saw the sound guy and announced "HEY! HE'S ASIAN!" Oh boy. I teased him a bit, "Do you even know what kind of asian he is? Do you even care?" His smirk said it all. During break, I asked him, "Do people treat you different?"
"They all kiss my a$$," he shrugged before make a whistling trumpet sound and burping repeatedly in my ear. My reaction, "I've gotta fart…but I'm holding it." Correct, that's what I said to the man who's had brunch with Putin. (Truth: I was about to poop myself but waited till we finished takes. Where's my bloody Oscar?!)
Very cool to meet big name stars but at the end of the day, they're still people. How you treat your waiter shows the most about you, know-what-I-mean?
Ever the optimist, let's face the fact that Asians are largely invisible in Hollywood and represent less than 1% of lead roles. The lack of opportunities given can no longer excuse Hollywood's history of exclusion and white-washing. Let's celebrate the success of films like Crazy Rich Asians and Black Panther. Let's keep supporting change so that people of color are allowed to make mediocre movies. Representation matters. Diversity should be the norm, not the exception. Our ticket dollars matter. Wouldn't it be amazing to see our beautiful world mirrored on-screen? THANK YOU FOR SUPPORTING ❤
PITCHFORKS AND POLYAMORY
pol·y·am·o·ry
/ˌpälēˈamərē/
noun
the philosophy or state of being in love or romantically involved with more than one person at the same time.
In a world of 7.4 billion people, only 1 romantic partner will make you happy. Fact or fiction? As a little girl, I'd say fact. As a grown a$$ woman, I'm skeptical. After all, a woman's worth is measured by who she marries and her virginity is an unbreakable bond with the gods( pardon my acid reflux). Ladies, we've been raised with entirely unrealistic expectations of princesses awaiting their one true prince. Instead of Disney movies, we should've been enrolled in free-therapy-whenever-we-want. Throw in sex toy groupons and we golden.
Cue relationship goddess Esther Perel and her viral TED Talk, "For anyone who's ever loved… We may love sushi, but we don't necessarily want to eat it every day. We have diverse interests, hobbies, friends, careers. Yet, when it comes to romantic partners, we're supposed to put every egg into one basket? That's a LOT of pressure. It takes hard work to sustain desire in a long term relationship. How can we fan the flames and be honest with our partners? Remember, cheating is based on secrecy and lying. Open relationships/polyamory are built upon communication. How can we build bonds of honesty and trust, even when they involve other people? Time to read The Ethical Slut.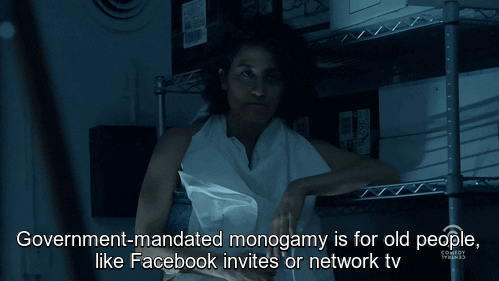 Before anyone takes out their pitchforks, note I respect monogamy and see it as a CHOICE. Like any choice in life, what works for you doesn't necessarily work for everyone. I'm more of a serial monogamist but am open to exploring. Freedom within commitment is possible. Sexuality is a spectrum. CONSENT IS HAWT. Mad love for the LGBTQ community.
(disclaimer: Dating multiple people will lead to a renewed interest in monogamy. Side effects include ghosting, emotional unavailability, and STDs)
As a crazy woke asian, I started dating asian men in my late 20's. There were no hot asian guys to lust after in my mostly-white high school. Add on Hollywood's white man savior complex, sprinkle a few daddy issues, and VOILA! A recipe for stereotyping asian men as weak, effeminate, geeky, unsexy. Change starts here.
(Based on in-depth, albeit small quantity of data, I'm happy to announce that asian men are equipped with…erm…full stockings. Henry Golding, call me)
ALL WE NEED IS LOVE (Less Social Media)
"How long can someone go without love?" my acting teacher asked.
Now replace "love" with "social media". HA! Ever feel the pressure to keep up and be our best selves, constantly? We measure our success by number of followers or likes. You'll hear casting directors say "I won't even look at someone who has less than 5,000 followers." DAMN, that's scary. I understand the profit margin and marketing element of social media, but let's not forget insta-famous is a recent occurrence. Life needs to be LIVED in the present (OMG,  but look at this cute puppy meme!)  Sigh, I have A.D.D.
Point is, it's great to share, but it's even more important to self care. Take time offline to recharge our batteries. The world will keep spinning. Ask loved ones AND the universe for what you need. Some of us are sunflowers: we bloom best when watered daily (oodles of tlc + compliments pls).
We all have sh*tty days. Let me be the first to say I wake up some days with crippling anxiety where I can't breathe. There's no "quick fix" but daily management. Yoga, yoga, yoga. Happiness is a journey, not a destination. Find your tribe. Take your time. Hollywood's not going anywhere.
Shout out to all my bad ass ladies(and gents!): we can be independent and love being with a supportive partner. We can be intelligent and sexual. We can be productive members of society AND enjoy recreational weed. Gots to love Cali 😉
Remember: people will judge regardless. Might as well be true to yourself and connect with kindred spirits.
Happy Holidays my sweet darlings! Sending you patience and strength to survive our dysfunctional families!
LOVE IS ALL WE NEED(Santa slide some C notes in my stocking pls)
Ho Ho Ho,
CeCe Chic